This week marks the 10-year anniversary of a devastating disaster 2,500 miles from Denver that continues to have an impact at Colorado Academy today.
It was a 7.0 magnitude earthquake that struck Léogâne, Haiti, on January 12, 2010. By some estimates, more than 300,000 people died in 90 seconds. As well, some 250,000 houses were destroyed, along with 30,000 commercial and government buildings. In response, the U.S. pledged more than $4 billion in aid—more than for any other global disaster, and sadly, much of that aid never reached the areas that needed it.
In the wake of that tragedy, I reached out to my mentor and former colleague from St. Stephen's Episcopal School, The Rev. P. Roger Bowen, about how CA might help. Rev. Bowen connected us with a Haitian school in the rural mountain village of Nordette. Bowen had been serving as principal liaison in the United States to the Episcopal Diocese of Haiti, advocating for the 254 schools in Haiti.
Within a year, I went with several faculty members to assess our ability to support a partnership with St. Patrick's of Nordette, a small school serving about 100 students of all ages. We landed in Port au Prince, drove to Mirebalais, traveled an additional distance to the base of a mountain and taking off on foot, we climbed to the top. We made it to a small, one-room church that also doubled as the community's school. We met with Père Jeannot, who supervised a network of schools in central Haiti. He is now Archdeacon of the Central Plateau.
As I shook Père Jeannot's hand, he said, "Thank you for coming to share in our misery." It was a powerful statement.
On that first trip, we could see the impact of the earthquake on Port au Prince, and also the extreme poverty of Nordette. But, we also came to know a community of people, full of faith and commitment to their families, who needed help.
As I looked at our mission as a school of creating citizens of the world, I knew that we had to do more as a community than to provide textbook learning here in Denver. I knew we had to get out into the world. We had to go to Haiti and take our students. Experiential education is a core part of CA's history and culture.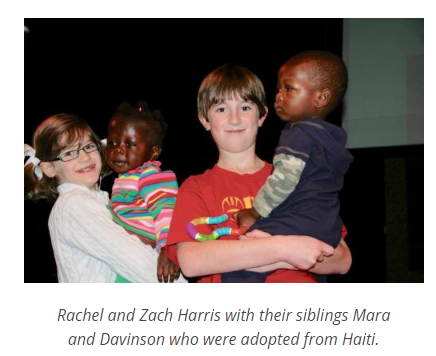 What ensued was an enduring partnership that came to involve CA faculty, staff, an added piece to our curriculum and global travel program, an active student club at CA, and most importantly, enduring friendships with people in that country. We also have had the remarkable opportunity to partner with nonprofit The Road to Hope, which was started by Rich and Lisa Harris, a CA family. Two of their children, Davinson and Mara, were brought out of Haiti after the devastation of the earthquake, and are part of our student community today. Two more of their children, Zach and Rachel, have done impressive and impactful service projects of their own to support students in Haiti.
In 2015, Père Jeannot traveled to CA to meet people at our school, and for our part, we have since led numerous service-oriented trips to Haiti. Our students have participated in building a new school for the children of Nordette and have supported them in many other ways. Many of our students take an Upper School inter-disciplinary class taught by Stuart Mills and others that explores the history and culture of Haiti.
The situation in Haiti is still far from settled. Recent violence there has forced us to temporarily suspend travel there for students, although we are exploring going to Haitian expatriate communities in southern Florida and are committed to supporting the people of Nordette.
I hope you will take a moment to reflect on people throughout the world negatively impacted by natural disasters and think about ways you might step up and respond to human need. The CA Haiti program is something of which we should all be proud. I would like the thank Stuart Mills, Jesse Schumacher, and Rich and Lisa Harris for their stalwart commitment, as well as the people of Nordette, for trusting in this partnership and persevering through unimaginable difficulties.